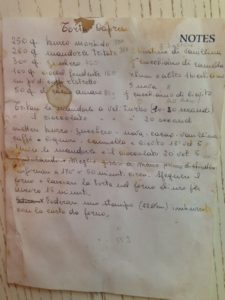 Desserts are important in Neapolitan cuisine, and my mother-in-law's best one is the Torta Caprese, a dense chocolate cake that she makes for all birthdays and many a Sunday lunch (my husband will blow his top if you liken it to a brownie – I've learned my lesson!)
Getting Raffaella's Caprese recipe was a surprising experience. I thought I knew what to expect: I'd included four of her recipes in Only in Naples, and had become accustomed to her expression of physical pain when I asked for precise numbers, followed by her objection that it was impossible to quantify in recipes. Readers will know a occhio, by sight, she insisted: they will simply look and see how much mozzarella or oil is needed.
So I had to watch her carefully and secretly write down numbers, like a dorky math student. But when I asked how to make her famous Caprese, she started chirping happily 250 grams of almonds! And 50 minutes at 170 degrees! How do you know these numbers? I asked her, incredulous. From the recipe, she told me, and showed me a stained sheet of brittle paper with (get this!) numbers written down. I was speechless.
This was how I learned that in Naples, desserts are different. In Raffaella's kitchen, dolci are made by following recipes like this one.
Torta Caprese
Makes one 9-inch cake, 8-10 servings.
Total Time: Prep: 20 minutes. Bake: 50 minutes plus 15 with oven off
Ingredients:
2 cups (½ lb) blanched almonds
4 ounces bittersweet chocolate
12 oz. unsalted butter, at room temperature
5 (large) eggs, at room temperature
2 ½ cups sugar
½ cup unsweetened cocoa powder
¼ cup espresso
¼ cup rum
1 teaspoon vanilla extract
½ teaspoon cinnamon
½ teaspoon baking powder
¼ cup confectioner's sugar
Preheat oven to 325 degrees. Grind 1 cup of almonds to make almond flour in a stand mixer or food processor and set aside. Finely chop the remaining cup of almonds and add them to the almond flour. In the mixer, chop bittersweet chocolate until it looks crumbly and add it to the almonds. In a bowl or stand mixer, mix until creamy butter, eggs, sugar, cocoa powder, espresso, rum, vanilla extract, espresso, cinnamon and baking powder. Add almonds and chocolate, continue to mix until creamy (If you're using an electric mixer, spatolate – mix with your spatula — before pouring the batter into the pan.) Pour into 9-inch non-stick pan. (If you have a regular pan, get ready for some arts and crafts! Grease the bottom and sides of pan with butter, and line it with baking paper: one big circle for the bottom and little strips around the sides.) Bake for 50 minutes. Turn off oven, leaving cake inside for another 15 minutes. Remove and cool in the pan. When the cake is completely cooled, turn it over onto serving plate and dust with confectioner's sugar. Serve with whipped cream or gelato.